Connect your PC directly to a Tajima, Barudan or Melco Embroidery Machine!
The Masis LoaderBox, an external Masis Interface box, allows connection of your PC to an Embroidery machine. Uses the MASIS ECS V3.23 Software , and runs under Win 98 SE, Win Me, Win95,even DOS Operating Systems.
ALL TAJIMAs, including Melco/Tajima TMM
ALL BARUDANs,
MELCO SUPERSTAR I, II, IV, STARLET 1 & 2, STAR 1 & 2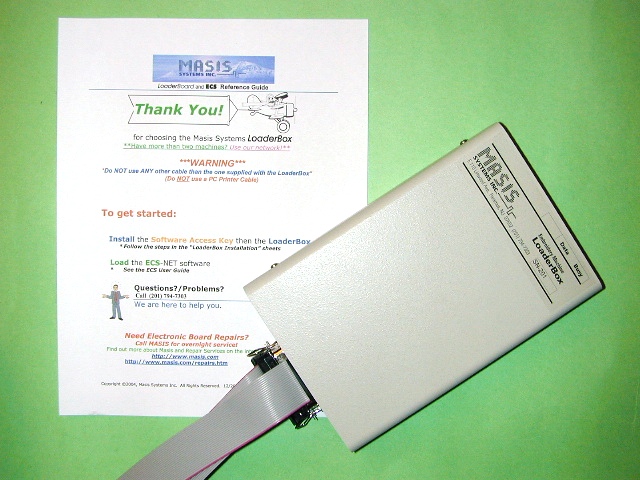 LoaderBox
The Masis Systems Inc. ECS (Embroidery Control Software) drives:
The Masis LoaderBox External Box attached to LPT1: (Printer port)
or The Masis Network System to enable Design Transfer from a PC to an embroidery machine.
ECS can run on Windows 98SE, Windows 98, Windows ME, Windows 95, or Dos 3.3 and higher Operating Systems.
File maintenance features are built into ECS.
You can import, rename, move, or delete design files, or create and manage directories. Tajima, Barudan FMC, FMC Custom, FDR, (and if your disk controller can support the format, Melco Expanded) disks can be read, and the designs viewed and transmitted to the machines. Melco Exp files are sent as Tajima files after conversion by ECS's internal file converter.
If you have a design computer it can be accessed over a network e.g. as drive F: to totally eliminate diskettes.
Design Transfer speed is controlled by the embroidery machine and is not affected by the speed of the computer.

Back to Masis Systems' home page